Hillary Clinton's Role in Losing Russia
Putin's anti-Western shift wasn't rooted solely in domestic concerns.
by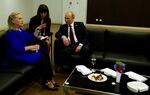 Michael McFaul, the former U.S. ambassador to Russia, and the Russia expert Kathryn Stoner say U.S. foreign policy has had a relatively neutral effect in determining Russia's course. In an article published last week, they argued that President Vladimir Putin's virulent anti-Americanism was driven by domestic, tactical considerations, allowing us to put to rest any concern the U.S. was doing too little or too much vis-a-vis Russia.