Graft Cops' Next Assignment: Brazil's Schools
Tots are asked to draw their feelings about corruption.
by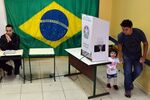 More than a year into their biggest corruption scandal on record, you might think decent, law-abiding Brazilians would have had their fill. With the relentless drip of news about bent politicians and dodgy moguls, what are the children to think?