An App for Reviving China's Stock Market
Can small investors chat their way to wealth?
by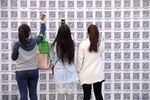 A Chinese social media company is trying to succeed, where government policy has so far failed, at reviving the country's stock market. Last week, WeChat, China's most popular social networking app, announced it would soon unveil a stock trading platform, giving its 549 million active users the chance to easily toggle between sending emojis and sell orders.
Nearly one-third of China's small investors have bailed on the stock market during the downturn. If the WeChat platform lures them back, it could give the market a short term boost. But the combination of social media and stock investing probably won't bode well for China in the long term; it's likely to worsen the emotional volatility of an already volatile market.
Even before the advent of social media, investing was a social activity in China. During China's last ill-fated bull market a decade ago, brokerage offices became veritable social clubs for many traders -- retirees, in particular. Although small investors usually turned to online investing platforms to make their trades, many preferred to spend their days trading tips in person.
For younger investors with day jobs, stock trading as social activity would have to wait for the development and mass acceptance of two technologies: smartphones and social media. By early spring 2014, when the latest bull market began to gain momentum, social media -- and especially WeChat -- was playing a central role in guiding the investment choices of Chinese investors.
The main way WeChat users have used the service to discuss stocks (beyond one-to-one messaging) is through invitation-only group chats. These forums -- which are generally capped at 50 people, but can expand to include as many as 500 -- come in two forms. Most common are groups formed by friends and acquaintances to share tips, advice or even offer moral support. If you took a walk on a typical city street during this most recent bull market, it was hard to avoid overhearing traders sending voice messages to WeChat groups, prodding them into trades or consoling them on losses.
The second type of invitation-only group is formed by someone promising specific insights, analysis or tips. Invited users often find out they're being sold something, but the information on offer in such groups, whether it's good or not, has been in strong demand in China, and often drives trades.
There's no publicly available data describing how many equities-related groups are active on WeChat. But Tencent, WeChat's parent company, clearly believes their numbers are sufficient to justify partnering with China Merchants Bank in creating a platform that will make it easier for people -- especially first-time traders -- to place orders through the app. Under Chinese law, individual brokerage accounts are only approved a prospective investor's identity has been confirmed via an in-person visit to a brokerage, or a video chat. WeChat's new stock platform will bypass those rules by allowing users to open an account with a photo ID and a facial scan. And if they already registered a credit card or banking information with WeChat, they'll be able to start trading as soon as their identities have been confirmed.
The company hasn't revealed how, precisely, the app's trading functions will interact with its chatting functions. But the hope seems to be that they'll feed off each other, thus offering investors the opportunity to act more efficiently on their impulses to buy and sell stocks. That could lead to an increase in emotionally-driven trading. And in a country where, according to Chinese state media, retail investors hold roughly 80 percent of tradable shares, that will likely mean more fluctuations for the stock market as a whole.
Tencent has yet to offer a start date for the platform. But given the ways in which the government's own attempts to goose the stock market have fallen flat, a flood of trades from WeChat's excitable users might prove the best hope to revive China's bull market in the immediate future. If that's the case, however, Chinese policy makers ought to reconsider whether that sort of revival is truly worth it.
This column does not necessarily reflect the opinion of the editorial board or Bloomberg LP and its owners.
To contact the author on this story:
Adam Minter at aminter@bloomberg.net
To contact the editor on this story:
Cameron Abadi at cabadi2@bloomberg.net
Before it's here, it's on the Bloomberg Terminal.
LEARN MORE