The U.S. Still Needs 2.4 Million Jobs
So don't expect the Fed to pull back fast on stimulus.
by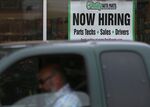 Robust U.S. job growth is giving the U.S. Federal Reserve the confidence it needs to start pulling back on economic stimulus as soon as next month, ending an unprecedented period of near-zero interest rates. Given how much healing remains to be done, though, don't expect the Fed to move very far or very fast.
QuickTake Monthly U.S. Jobs Report
The latest employment report portrays an economy well on its way to recovery. The Labor Department estimated that nonfarm employers added 215,000 jobs in July, bringing the three-month average to about 235,000 -- more than enough to compensate for natural growth in the labor force. The unemployment rate held steady at 5.3 percent, very close to the threshold below which inflation tends to become a concern.
By other measures, though, the U.S. is far from fully employed. Too many people want a job but have stopped searching for lack of opportunities, or want more than the part-time work they've managed to find. Using a method borrowed from the economists David Blanchflower and Andrew Levin, we can estimate how many jobs would be needed to accommodate those people and get the unemployment rate down to 5.1 percent, the center point of what Fed officials consider to be full employment. As of July, this gap stood at about 2.4 million. That's down from about 3 million in March but still a long way from where it should be.

The persistently slow pace of wage gains also indicates plenty of slack in the labor market. Average hourly earnings for production and nonsupervisory employees were up just 1.9 percent in July from a year earlier, well short of the 3.4 percent pre-recession pace. Last week, the Labor Department reported that, even with benefits, workers' remuneration rose only 2 percent in the second quarter from the previous year.
The public statements of Fed Chair Janet Yellen suggest she's well aware of how far the economy remains from normal. Removing stimulus before the job market heals would mean giving up on millions of people who have yet to climb back from the 2008 recession and accepting long-term damage to the country's productive capacity. That's not something she'll do lightly.
This column does not necessarily reflect the opinion of the editorial board or Bloomberg LP and its owners.