Rise of the Robots May Hold Back Interest Rates
Central bankers want to see wage growth. Robots don't help.
by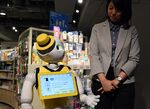 The U.S. Federal Reserve still seems to be set to raise borrowing costs later this year, probably in September. The Bank of England is trying to convince investors that it, too, is poised to push up interest rates. I'm still worried both may be seduced into acting before their economies justify a move. They may be propelled instead by psychology: Leaving rates near zero makes central bankers uncomfortable.