The Biggest Loser of the GOP Debate
The night's most interesting moments, perhaps inevitably, revolved around the Donald.
by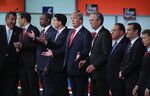 Donald Trump was at the center of the surprisingly exciting first Republican presidential debate. He was the candidate who had you wondering, every time it was his turn to speak, what he was going to do next. The most interesting interactions between candidates all involved him.