Schumer Says He'd Vote to Override Obama's Iran Veto
Next Democratic Senate leader will buck the White House to the end on nuclear pact.
by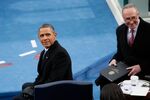 Late last month, when Chuck Schumer, the senior Democratic senator from New York, was speaking to home-state donors in private, he signaled he would oppose President Barack Obama's Iran deal. But when asked whether he would still vote against the leader of his party after a presidential veto of a congressional measure of disapproval, Schumer wouldn't say, according to fundraisers who spoke to me this week.
Those donors now have an answer. Matt House, a spokesman for the senator this morning in an e-mail to me, confirmed that Schumer would also vote to override an expected Obama veto if the rejection measure passes Congress.
Last night, Schumer released a statement announcing his opposition to the deal. Unlike other foes of the Iran deal, Schumer said, his decision was a tough one, and conceded that for the first 10 years of the agreement, "we might be slightly better off." But he added, "when it comes to the nuclear aspects after ten years and the non-nuclear aspects, we would be better off without it."
Schumer's statement is important for two reasons. To start, he is considered the strongest pro-Israel Democrat in the Senate and he creates political space for other Democrats to oppose the Iran nuclear agreement. If the White House had persuaded Schumer of the deal's merits, it would have all but guaranteed that there would not be enough votes to override a veto of a resolution disapproving it. The odds are still against the deal's opponents getting two-thirds majorities in the House and the Senate, but Schumer's opposition keeps that prospect alive for now.
It's also significant because it shows that Schumer, who is next in line to be the Democratic leader in the Senate, is willing to take on his party's progressives and the White House. Schumer projected a respectful tone in his statement, praising the diplomacy of Obama and Secretary of State John Kerry. That tone was in contrast to a speech Obama delivered this week at American University, in which he said Iran's Revolutionary Guard Corps, who are also said to oppose the deal, were making common cause with Republicans who will vote against it.
Some progressive activists have already said Schumer's opposition to the Iran nuclear deal should disqualify him from taking over for Harry Reid as leader of the Democrats in the Senate. A progressive pressure group known as Credo Action last night sent out an e-mail within hours of Schumer's announcement accusing him of undermining peace with Iran. The group's political director, Becky Bond, said in the statement, "Chuck Schumer was wrong on Iraq and he is wrong on Iran. Schumer's decision to join Republicans in attempting to sabotage the Iran nuclear deal once again shows that he is unfit to lead senate Democrats. Perhaps it is time to change his nickname from Wall Street Chuck to Warmonger Chuck."
Credo Action is not alone. Dylan Williams, the political director of J Street, a Jewish group campaigning for the Iran deal, tweeted last night, "Seeing lots of Democratic heavy-hitters noting that, unlike the #IranDeal, there are alternatives to Chuck Schumer."
Steve Rabinowitz, a Democratic communications consultant who works with Jewish organizations, told me Friday that Schumer was in a "lose-lose situation." At the same time, Rabinowitz speculated that Schumer could turn it into a win-win and retain progressive support to be Democratic leader in the Senate if he voted against the deal initially but didn't press his colleagues to do so, and then voted against overriding an Obama veto of the resolution of disapproval. 
"Now we just have to see if he really whips his colleagues, I hope not, and if there is a veto override vote, what he does," Rabinowitz told me. "If he doesn't whip his colleagues, and he votes with the president after a veto, then he will have a way to have it almost both ways. I am disappointed, but I get it. I get all these members and Jews going the other way, it bums me out, but I get it."
Based on what his staff told me Friday, however, that's not the plan: Schumer will stand against the deal no matter what. The question now for New York's senior senator is whether progressive Democrats who support the Iran nuclear agreement will go the other way on Schumer's candidacy to lead his party in the Senate after Harry Reid retires.
To contact the author on this story:
Eli Lake at elake1@bloomberg.net
To contact the editor on this story:
Tobin Harshaw at tharshaw@bloomberg.net
Before it's here, it's on the Bloomberg Terminal.
LEARN MORE