Modi Needs a New Strategy
India's Prime Minister needs to do an end run around Parliament if he wants to salvage reforms.
by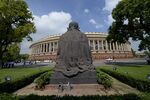 An important parliamentary session in India -- one that gets its name from the country's monsoon rainfall season -- is set to be a total washout. The session, which ends next week, has been disrupted, stalled and otherwise rendered non-functional by parties opposed to Prime Minister Narendra Modi's government. They're insisting Foreign Minister Sushma Swaraj and two state chief ministers who belong to the ruling Bharatiya Janata Party resign on charges ranging from minor misdemeanors to serious corruption. Modi and the BJP have flatly refused.