A Japanese Development Course for India
Japan shows the way: infrastructure, manufacturing, progress.
by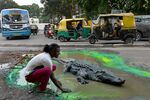 For decades I've been hearing about India's need to modernize its infrastructure. Infrastructure is crucial for manufacturing, since various inputs need to travel quickly and reliably between and within cities in order to create stable supply chains. Manufacturing, in turn, is central to development -- it moves people from farms to cities, where they become more productive, and it helps local companies absorb advanced technology from the rest of the world.