Donald Trump Is the New Ron Paul
Their appeal to their ardent supporters is precisely why they won't get elected.
by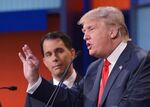 I spent yesterday from 5 p.m. to midnight watching Republican presidential candidates debate each other -- well, mostly watching them give brief answers to predetermined questions. The second debate, aka The Big Kid's Table, was the best moderated debate I've ever seen, with serious, tough questions that targeted the weakest points of the men answering them. The questions gathered from Facebook were sillier, but provided great enjoyment for our intrepid band of debate-watchers, who were a mite fatigued after hours of talking points.