Chip Kelly, Racism and the Culture of the NFL
College coaches going pro have trouble giving up total control.
by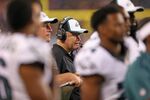 ESPN's Jason Whitlock has weighed in on the "Is Chip Kelly racist?" debate, bringing some much-needed perspective and reason to the issue. No, that's not a sentence I thought I'd ever type, either.