Iran Deal Didn't Trigger the Middle East Arms Race
And higher Gulf defense spending will benefit more than just U.S. contractors.
by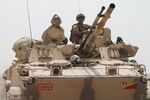 Critics of the Obama administration's Iran nuclear deal warn that, among other faults, it is setting off a new Middle East arms race. In Qatar this week, Secretary of State John Kerry seemingly admitted as much, saying that Washington had "agreed to expedite certain arms sales that are needed and that have taken too long in the past."