Carly Fiorina, the Governor Slayer
The Fox News moderators were the biggest losers.
by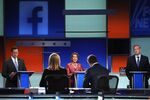 Well, it could have been worse.
Yes, the Republican Party's early debate for the candidates who didn't make the Fox News polling cutoff was about as uninspiring as these things can get. The setting -- a huge arena with thousands of empty seats -- didn't help. Nor did the plain fact that most of these politicians have no chance at all. Or that the (absolutely awful) Fox News hosts piled on, first by essentially asking the candidates why they were such losers, and then asking them about Donald Trump. Given all that, it was pretty much impossible for any of them to sound impressive. 
The conventional wisdom (on Twitter anyway) was summed up by MSNBC's Benjy Sarlin:
Fiorina? She was animated (unlike the oddly sonorous Lindsey Graham), smooth (unlike Rick Perry, who as usual in these things took a while to warm up) and at least plausibly of the 21st century (unlike Bateson candidates Jim Gilmore and George Pataki and Rick Santorum, who answers every question by talking about what he did in Congress in the 1990s).  
That probably is not enough to make her the story of the night once the main event is over -- especially since I'm not sure how well some of her confident-sounding foreign-policy answers will hold up to scrutiny. She seemed, for example, to refer to ISIS as an Iranian proxy.
To the extent that Fiorina is the headline, however, that mostly means that Perry, Santorum and Bobby Jindal were not -- and they were the ones who might have capitalized on the opportunity, at least in terms of having a real shot at the nomination. 
I just hope we get more policy questions in the main event. 
This column does not necessarily reflect the opinion of the editorial board or Bloomberg LP and its owners.
To contact the author on this story:
Jonathan Bernstein at jbernstein62@bloomberg.net
To contact the editor on this story:
Katy Roberts at kroberts29@bloomberg.net
Before it's here, it's on the Bloomberg Terminal.
LEARN MORE