Buccaneers Want Women Barefoot, Pregnant and In the Stadium
A plan to court female fans centers on fashion and hostessing.
by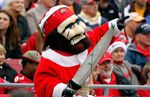 The Tampa Bay Buccaneers have launched a new campaign to bring in female fans. That's good! Women have for too long been ignored by leagues and marketers, despite the fact that we're an "actionable demographic" with perfectly good dollars to spend and every bit as much fan and brand loyalty as our male counterparts. This is how we get ice girls and pink hats and GoDaddy commercials and Alyssa Milano designing "sportswear." So it's encouraging to see that we're starting to move beyond treating women as window dressing in sports and recognize the untapped value of the female fan.
Unfortunately, instead of making their female fans feel valued, the Bucs' initiative, RED, is a slap in the face to every woman hoping to be taken seriously. It's a new program built on the old tropes that women don't understand football and that the way to a female fan's heart is through her wardrobe. "RED will provide female Buccaneers fans with year-round educational experiences focused on providing a better understanding of the game," the Bucs boast in a press release that touts "gameday style tips" and a lifestyle session designed to help plan the perfect tailgate, and a Pinterest board to share ideas with other Sunday morning hostesses. Despite RED's claim to "re-invent the female fan experience," women are still being treated not as fans first, but as shoppers and party planners whose interest and knowledge in football itself is secondary, a platform through which they can express their true interests in fashion and entertaining, presumably, men.
Aside from the sheer condescension of the campaign, the Bucs are billing RED as a "women's movement," made all the more insulting when you consider the very real movement sweeping through sports spotlighting the various ways the industry continues to marginalize women, from the treatment of female fans and employees to the blind-eye enabling of violence against women. For a team whose number-one pick has multiple sexual assault accusations against him, that was paying its cheerleaders less than minimum wage, in a league that has been more than willing to overlook both, to bill a campaign that fails to address any of these issues is not just insulting. At this point, they're just mocking us.
There are plenty of ways to make football more inclusive to the millions of female fans that already exist -- we do make up 50 percent of the fanbase -- while encouraging other women to start watching. Getting rid of cheerleaders is a good start, or at least hiring men to cheer, too. Raising the profile of women in football media is another. Perhaps if teams had more female executives, they'd be less tone-deaf when reaching out to female fans. As BuzzFeed's Lindsey Adler notes, football stadiums aren't exactly the safest space for female fans looking to enjoy a game without being sexually harassed; maybe if teams took sexual violence among their players more seriously, it might trickle down to the fans.
You don't have to get rid of the Pinterest all together -- women are more actively engaged on social media across the board, and that does translate into a stronger consumer base. Just realize that we're most likely to be loyal to brands that are loyal to us -- not those that insult our intelligence or tacitly question our interest in the game. Female fans don't need any special education to teach us about football; we know what a play clock is, for crying out loud. We need to be acknowledged, we need to be represented, we need fan forums to have our voices heard, and perhaps most importantly, we need cornerbacks with all 10 fingers.
This column does not necessarily reflect the opinion of the editorial board or Bloomberg LP and its owners.