What Trump Has in Common With a British Socialist
Labour, like Republicans, might need a disastrous loss. Jeremy Corbyn can oblige.
by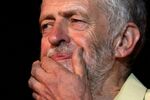 Jeremy Corbyn is a rumpled, 80s-style socialist trying to pull the U.K. Labour Party to the left. Donald Trump is a flashy celebrity tugging at the hearts of the U.S. Republican right. How can it be that people are suddenly divining similarities between them?