view
On Clean Energy, the U.S. Should Be More German
Obama's new initiative is timid compared with Germany's Energiewende.
by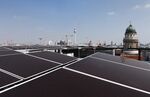 For all the noise and debate that President Barack Obama's Clean Power Plan has generated, it's actually pretty timid. If the U.S. wants to push the world toward a broader acceptance of cleaner energy, it should consider the painful, expensive but ultimately effective experience of Germany.
The U.S. plan features some impressive-sounding goals, including a 26 to 28 percent reduction in greenhouse gas emissions by 2025. The baseline year for comparison, though, is 2005, when U.S. emissions were near a peak. As Christopher Schrader pointed out in the Sueddeutsche Zeitung, the target would look only about half as impressive if the U.S. chose 1990 as its base year -- as the European Union, including Germany, has.
Germany has set itself much more ambitious goals: Cut emissions by 40 percent from the 1990 level by 2020, and bring the share of renewable energy sources in power generation to 35 percent by 2020 and 80 percent by 2050. To that end, it added a surcharge to the energy bills of households and smaller businesses, using the extra money to help producers of renewable energy reach the scale needed to compete with traditional forms of generation. 
The country is well on track to achieve the power-generation target. Last year, wind, solar, hydro and biofuel plants accounted for 30.5 percent of electricity production. 

Unfortunately, emissions haven't declined at the same pace. They were down only 27 percent as of last year, and have even increased in some recent years. The reason: Traditional utility companies, struggling under the government's surcharges, have looked to exports to survive. With oil and gas prices high during much of the 2000s, they used cheaper coal to produce the energy for export. As a result, consumption of the dirtiest fuels, coal and lignite, hasn't gone down -- in fact, lignite remains the leading fuel type for German power generation. 
Still, Germany's energy transition plan, known as Energiewende, can't be called a failure. The German coal boom is likely to subside. Natural gas is getting cheaper, following the drop in oil prices. Meanwhile, the surcharge is decreasing as production costs for renewable energy decline, thanks in part to Germany's determination to create the market even if it meant the bankruptcy of homegrown equipment producers and the rise of their Chinese competitors. So power generation companies are likely to start favoring gas over coal, making the attainment of Germany's emission goals more feasible.
Germans' willingness to suffer the surcharge is paying off, in the form of a growing alternative energy industry and a broader shift in mentality. Renewable energy accounts for 76 percent of power consumption in Brandenburg, the German state that surrounds Berlin, and 66 percent in Schleswig-Holstein, the northern state next to Germany's second city, Hamburg. Two-thirds of Germans say they want to produce their own clean energy, and nearly half of the country's renewable energy capacity is owned by citizens rather than institutional investors.
Obama's plan, by contrast, is mainly about capping emissions at fossil fuel power plants and making it impossible to build new coal plants. States can decide whether they want to meet emissions targets by modernizing existing power stations or by creating bigger renewable industries. Without the German kind of affirmative action on renewables, the U.S. will still burn mainly fossil fuel, albeit more efficiently than before and with less use of coal. 
Given the political gridlock in Congress, the U.S. is unlikely to pursue more radical change. Half-measures all but ensure that it will keep falling behind Germany (and another determined clean energy proponent, the U.K.) in developing a strong alternative energy industry. They will also hold back the decline of renewable power generation costs, a trend to which the the vast U.S. market could have added a lot of momentum. It's a pity that the U.S., a leader in many consumer technologies, is choosing to be a follower in this one. It's allowing Europe to build a big future competitive advantage.
To contact the author on this story:
Leonid Bershidsky at lbershidsky@bloomberg.net
To contact the editor on this story:
Mark Whitehouse at mwhitehouse1@bloomberg.net
Before it's here, it's on the Bloomberg Terminal.
LEARN MORE