It's Not Australia's Job to Find MH370
Malaysia and China should be responsible for solving the mystery.
by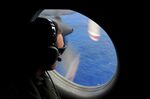 The discovery last week of a Boeing 777 fragment on Reunion Island in the western Indian Ocean, and the Malaysian government's confirmation on Wednesday that it belongs to missing Malaysia Airlines Flight 370, has kindled hopes that the plane's wreckage might still be found. But the Australian government, which has been coordinating the search and recovery mission for the plane since its disappearance in March 2014, has so far refused to indulge in sentimentalism. Rather than recommit to the search, Warren Truss, Australia's deputy prime minister, said on Monday that -- barring actionable evidence from Reunion Island about the precise location of the crash -- his government won't extend the mission beyond next year.
That decision might seem brusque, but it's entirely appropriate. Australia is preparing to abdicate a responsibility that it never should have assumed in the first place. If China and Malaysia, the countries most directly affected by the tragedy, aren't interested in shouldering the financial and administrative burden of leading the search, the mystery of Flight 370 should probably remain just that.
Australia's connection to Flight 370 is tenuous. Of the 239 passengers and crew lost during the flight, only six were Australians. By comparison, 153 were Chinese, and 38 were Malaysians. And Malaysia, in particular, has an economic stake in the tragedy. On Tuesday, Christoph Mueller, CEO of Malaysia Airlines, said that continued speculation over Flight 370, especially on social media, hurts the state-owned carrier's ticket sales.
Despite Australia's thin connection to the flight, when suspicions about the plane's crash site shifted from the South China Sea toward the Indian Ocean, Australia was obligated under agreements that govern the International Civil Aviation Organization, the United Nation's aviation arm, to take a role in the search mission, which was taking place in its legally defined search and rescue zone.
But when the search and rescue mission transitioned into a search and recovery mission on March 24, 2014, Australia's obligations became much less clear. ICAO offered no clear guidelines on who should lead such a mission, or for how long.
If the legal situation wasn't immediately clear, however, the practical constraints were. Neither Malaysia, with its small navy, nor China, had the ability to initiate a complex search and recovery mission in the remote, kilometers-deep waters in which the plane is predicted to have sunk. So Australia, with the agreement of both countries, took on the burden of coordinating the search.
It was supposed to be a collaborative arrangement, and in some ways it was. Early on, for example, China contributed a ship to help map seafloor in preparation for an ongoing underwater survey conducted by hired vessels.
But when it comes to financing the search, Australia has been on its own. Malaysia initially announced that it would split the costs 50-50 with the Australian government. Meanwhile, Warren Truss's office has told Australian media that China and Malaysia were asked to "go thirds" in the cost. Neither scenario played out. According to Truss's office, Australia has spent 76 million Australian dollars ($55.87 million) on the search, with an additional 14 million Australian dollars budgeted for it, while Malaysia has contributed 40 million. As for China, a Truss spokesman noted: "China has not contributed resources or equipment to the underwater search." Truss himself noted that a lack of appropriate boats and technology is no excuse. "We've had to hire vessels, as well," he told the Wall Street Journal.
Australia, unsurprisingly, wants to ensure it doesn't ever find itself in this position again. In February, it formally requested that the ICAO draft guidelines to clarify the delegation of responsibility for future accidents that resemble Flight 370.
In the meantime, the Australian government should be forgiven for running out of patience. If Flight 370 isn't found in the next year, Australia will walk away from the search having led and largely paid for an effort to map the 46,000 miles of ocean floor most likely to contain its wreckage. China and Malaysia are certainly capable of hiring ships to continue that search. But next year they'll finally be forced to decide if it's truly worth doing so.
This column does not necessarily reflect the opinion of the editorial board or Bloomberg LP and its owners.
To contact the author on this story:
Adam Minter at aminter@bloomberg.net
To contact the editor on this story:
Cameron Abadi at cabadi2@bloomberg.net
Before it's here, it's on the Bloomberg Terminal.
LEARN MORE