Green Roofs, Built on Private Investment
Eco-entrepreneurs and investors can help battle water pollution.
by and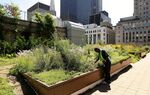 The extreme rainstorms that strike with increasing frequency -- such as the Memorial Day weekend downpours in Texas -- are having devastating effects beyond the severe flooding they cause. Sudden and forceful rains overwhelm urban storm-drain systems, as water pours over roads, rooftops and other impervious surfaces, washing away dust, oil, trash and waste of all kinds. This dirty wash then runs into rivers, streams and lakes, and pollutes downstream drinking water.
Storm water has become a principal contributor to water pollution nationwide, according to the Environmental Protection Agency. More than 700 U.S. cities use combined storm-water and sewer systems, and many are now overwhelmed by the pollution problem. When their overflows foul nearby waterways, these cities face federal legal action under the Clean Water Act, and penalties that range from millions of dollars in fines to billions in mandated spending on traditional equipment such as pipes, tanks and treatment plants.
As more and more people move from rural areas to cities -- by 2050, cities worldwide are expected to have 2.5 billion more people than they have now -- the problem will only worsen.
The solution, fortunately, is rather simple: Constructed wetlands, green roofs, rain gardens and other forms of "green infrastructure" can capture and slow runoff, significantly reducing storm-water pollution. At the same time, they provide wildlife habitat, flood protection, green space, and cleaner air and water.
The trick, in a time of tight city budgets, is to attract private investment to build green infrastructure.
And this is not so hard to do. Consider the progress that's been made in Washington, where urban storm-water runoff is the fastest-growing contributor to pollution in the Chesapeake Bay. The District's government has created a new marketplace in which green infrastructure is a tradable asset. Property owners who build green roofs, rain gardens and the like are given credits they can sell to others who need to offset the runoff from their developments. The system is designed to increase water collection less expensively than traditional approaches and to support green-infrastructure entrepreneurs. If the effort works as it's supposed to, additional community benefits will follow, from improved health to increased property values.
Other cities should follow Washington's lead. The key is to give developers the incentive to capture all the rainfall on their property, but offer flexibility in compliance. It helps to designate a municipal chief sustainability officer who can get various city agencies to work together in support of green infrastructure. New Orleans, Austin, Chicago and Los Angeles are among the cities that have made such appointments, and more are likely to follow.
In Washington and elsewhere, the push for green infrastructure has been helped by new collaborations with the financial sector to leverage private investment. Such "impact investment," although still a new approach in the conservation field, is catching on worldwide. Impact investors surveyed by J.P. Morgan report plans to invest 16 percent more capital in 2015 than the $10.6 billion they invested in 2014. In the fixed income markets, the so-called green bond market, which allows capital to be raised and invested in projects that provide a financial return for investors and an environmental benefit, has recently more than tripled in size, growing from $11 billion in 2013 to nearly $37 billion in 2014. And this market's fastest-growing segment consists of the municipal issuers who are often using green bond proceeds to update water systems.
As extreme weather events and rapid development strain existing capacity to cope with runoff, green infrastructure is one of the smartest investments cities can make. New financial models and access to untapped sources of capital can empower them to address a critical environmental challenge and build significant community value.
This column does not necessarily reflect the opinion of the editorial board or Bloomberg LP and its owners.