Editorial Board
Ditching President Rousseff Won't Help Brazil
Squabbling politicians should instead focus on saving Brazil's credit rating.
by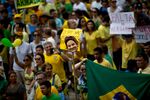 Discontent with the administration of Brazil's President Dilma Rousseff is boiling, with mass protests scheduled for Aug. 16 and growing calls for her impeachment. The anger is easy to understand -- but removing the president isn't the answer.
QuickTake Brazil's Highs and Lows
Brazilians have good reason to give Rousseff's administration an approval rating of just 7.7 percent. Inflation is at its highest in a decade; the economy is facing its worst slump in a quarter-century; a long-running bribery and kickback scandal metastasizes daily. Yet even if there were legal grounds to toss Rousseff out of office -- so far, there aren't -- that wouldn't help. It would likely make things worse.
The immediate priority for Brazil's squabbling politicians should be to defend Brazil's investment-grade credit rating, which is in jeopardy. If that goes, the country's borrowing costs would rise further, depressing confidence and investment even more. This danger looms all the larger because U.S. interest rates might rise as soon as next month.
To lessen the risk, legislators should support the fiscal reforms that Finance Minister Joaquim Levy has been spearheading since Rousseff appointed him last November. To be sure, passing these measures will be hard. The ever-widening corruption probe, which has so far ensnared at least 70 politicians and executives at some of Brazil's biggest firms, has made it harder.
To distance themselves from Rousseff and restore their standing, legislators have not only resisted Levy's cuts but voted to raise pensions and minimum wages that were already too high, forcing Levy to soften his budget targets. This is shortsighted in the extreme. In these circumstances, fiscal slippage is the fast track to an even weaker economy -- which won't help anybody's standing.
Some of Rousseff's opponents have called for her impeachment, accusing her of complicity in the scandal at Petrobras, the state-owned oil company, and of cooking the government's books. The corruption investigations, which she has publicly supported, haven't implicated her so far. Reckless talk of impeachment -- which six out of 10 Brazilians backed in a poll last month -- seems unwise as well as unfair. It might briefly placate Brazil's angry citizens, but it wouldn't mend the economy: If it led to more political turmoil, it would do the opposite.
Restoring financial confidence by supporting Levy should be the first order of business.
Rousseff can lead the way by pledging to reduce the number of ministries, which have proliferated as vehicles of political patronage. She should strengthen Petrobras, the company at the heart of the kickback scandal, by heeding the pleas of board members for less government interference, notably in setting fuel prices.
Beyond this, Brazil needs to restore growth in productivity, which has all but halted over the last few decades. Rousseff can do this by pressing forward with plans to lure more investment in Brazil's infrastructure, whose inefficiencies are legendary. (Only 15 percent of Brazil's roads are paved.) She needs to make investing in roads, railways, and airports more attractive. And the government urgently needs to cut red tape. (Brazil ranks 167th out of 189 in the World Bank's measure of how easy it is to start a business.)
These and many other necessary, far-reaching reforms call for hands across the aisle, not mobs in the street. Right now, that seems unlikely to happen. Unless this changes, Brazil's prospects aren't good.