view
Democrats Under Pressure to Stay Silent on Iran Deal
White House and AIPAC want lawmakers not to say how they will vote until September.
by and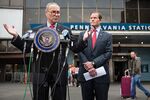 As Congress heads into its long August recess, the White House and the American Israel Public Affairs Committee are lobbying Democrats hard in anticipation of a September vote on the Iran nuclear deal. But both sides have given those Democrats who are set to oppose them a second option; they are asking them to at least delay announcing their decision until they get back.

The calculation for asking Democrats to delay their announcements is defensive: Neither side wants the other to establish momentum that would precipitate a cascade of commitments over the coming weeks
President Barack Obama and other top officials have been in near constant communication with House and Senate Democrats, through group and one-on-one interactions, to urge them to support the P5+1 deal with Iran and vote against the resolution of disapproval put forth Tuesday by House Foreign Affairs Committee Chairman Ed Royce. Bob Corker, Royce's opposite number in the Senate, could introduce a companion version of the disapproval measure as early as later this week.
Members of Congress and their staffers tell us that the White House has asked Democrats who are expected to oppose the deal to hold off on announcing their position until September, when Congress will be focused on the agreement. On the other side, AIPAC and its lobbyists are now asking members who are leaning toward supporting the agreement to likewise hold off on their announcements until after the recess.
One pro-Israel lobbyist told us that AIPAC is asking members who might support the nuclear deal to wait until after the Congressional recess for more information. Between now and Labor Day, Congress may learn much more about the side agreements reached between the International Atomic Energy Agency and Iran over how inspectors will gain access to suspected sites and verify information about the history of Iran's nuclear program. 
There are about two dozen Congressional Democrats who are being targeted heavily by both sides -- either party leaders or prominent figures in the pro-Israel community who thought to have influence over other the thinking of their colleagues. Chief among them are Senator Charles Schumer of New York, Senate Foreign Relations Committee ranking Democrat Ben Cardin of Maryland, and Jewish Democratic lawmakers such as Senator Richard Blumenthal of Connecticut.
In an interview, Blumenthal declined to talk about his private conversations with the Obama administration or AIPAC, but he told us he won't be swayed by either the White House's political pressure or the $40 million lobbying campaign sponsored by AIPAC and other groups opposed to the deal.
"I'm going to be spending all of August talking to my constituents because I want to understand what they are thinking," he said. "My overriding and single concern is what is the right thing to do for our nation."
Royce told us he is asking his Democratic colleagues to consider a bipartisan letter most of them signed earlier this year that laid out four conditions for a good agreement. Royce said on every single one of those conditions, from resolving outstanding questions about the history of Iran's nuclear issues to calling for "anytime, anywhere" inspections of suspected sites, the deal reached in Vienna last month does not meet the standards.
Royce also told us the second case he is making is to look at Iran's foreign meddling today in Gaza, Iraq, Lebanon, Syria and Yemen. "As Iran continues with this aggression I think it potentially will impact the decisions of members of the House of Representatives," he said.
The White House so far has been able to get some important Democrats to come out in favor of the deal before the recess, despite AIPAC's entreaties. These include Dianne Feinstein, the ranking member of the Senate Intelligence Committee, and Adam Schiff, her fellow Californian and counterpart on the House Intelligence Committee. Another lawmaker who came out in favor of the deal is Michigan Democrat Dan Kildee, who has advocated loudly for the release of Amir Hekmati, an Iranian-American Marine who was detained by Iran in 2011, and whose family claims he was tortured. 
The other side has had some success as well. On Tuesday, Representative Nita Lowey of New York, the party's top appropriator, came out against the deal, saying, "In my judgment, sufficient safeguards are not in place to address the risks associated with the agreement." Lowey is a close associate of House minority leader Nancy Pelosi, who is promising to deliver enough Democratic votes to prevent an override of a presidential veto of the disapproval measure. Also joining the no votes is Democrat Steve Israel, a New Yorker and member of House Appropriations Defense Subcommittee.
The Republicans' resolution of disapproval is likely to pass the House and Senate, but not likely to muster the two-thirds of votes needed in both chambers to override the expected presidential veto. Congressional aides and representatives of outside interest groups had different predictions about whether AIPAC, which is publicly and forcefully against the deal, would actually move to punish Democrats after the fact, if and when the effort to kill the deal fails.
It's no coincidence that Democrats who have already announced their intention to support the deal, such as Representative Sander Levin of Michigan, are in what are considered safe seats and have a long record of supporting Israel. AIPAC would be hard pressed to muster a credible primary challenge to Levin. Feinstein is not expected to run for re-election in 2018 and is likewise free to disregard any possible blowback, although she would likely have been for the deal in any case.
This is a rare case in which the political calculations of opposing sides result in the same conclusion -- to urge a delay in making a decision. Both sides believe their arguments will grow stronger in the weeks ahead. Besides, waiting until September also gives members a chance to ponder whose retribution they fear more: the president's or the pro-Israel lobby's? 
(Corrects the state represented by Ben Cardin, in sixth paragraph of article published Aug. 4.)
To contact the authors on this story:
Josh Rogin at joshrogin@bloomberg.net
Eli Lake at elake1@bloomberg.net
To contact the editor on this story:
Tobin Harshaw at tharshaw@bloomberg.net
Before it's here, it's on the Bloomberg Terminal.
LEARN MORE