The Real Problem With CEO Pay
How about putting bonds in bosses' pay envelopes instead of stocks?
by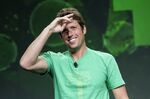 The Securities and Exchange Commission did as it was told more than five years ago and issued a pay-ratio rule today. It says public companies must disclose how their chief executive officers' compensation compares with their median workers' pay.