Can Baseball's Geeks Make Hockey Popular?
MLB Advanced Media can only improve NHL fans' experience.
by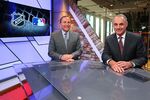 There's an old adage that the two industries that spur technological innovation in media are porn and sports. A groundbreaking deal between the NHL and MLB's digital media arm is proving at least the latter is still true.