Supreme Court Bar Engages in Some Back-Scratching
There's nothing wrong with that, as long as the justices reject the case.
by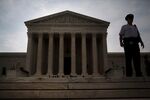 A goodly portion of the Washington legal establishment has filed a friend of the court brief asking the U.S. Supreme Court to reverse the conviction of a securities fraudster. But the court shouldn't take the bait, or the case. The court doesn't, and shouldn't, engage in what it calls error correction, except maybe in death penalty cases. And the Washington lawyers, who know this perfectly well, aren't on board primarily to establish a principle. They're engaged in a low-stakes process of mutual benefit that's well-known to legal insiders but, if successful, would amount to a distortion of the court's processes on behalf of fancy -- and expensive -- former government lawyers.