Hitchhiking Can Be Dangerous. Even for Robots.
What does HitchBOT's fate tell us about humans and robots?
by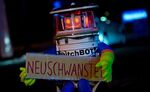 So who killed hitchBOT? The friendly hitchhiking robot made it across Germany, the Netherlands and Canada with nary a scratch, its treks followed by children and technology enthusiasts worldwide. Alas, the U.S. proved less welcoming: This past weekend, hitchBOT was wrecked -- in the City of Brotherly Love.