Your Backyard Is the Wild West for Drones
There are no privacy rules keeping your neighbor from flying a camera over to spy.
by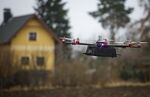 You may have caught the story last week about the Kentucky man who was arrested after shooting down a drone in his backyard. William Merideth said that the vehicle was hovering over his teenage daughter, who was sunbathing. Whatever your views on private ownership of firearms (to say nothing of their discharge for this purpose), the case reminds us that the increasing private use of unmanned aircraft raises yet-unresolved questions about privacy.