Tougher Rules Can't Repair Banking's Broken Culture
To regain public trust, bankers should strive for "trustworthy," not just "legal."
by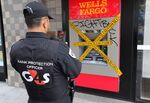 Successful economies need healthy banks. In 2008, the errors of the U.S. banking system crashed the global economy. Seven years later, the recovery in the U.S. and elsewhere is still tepid -- and the failure to get the financial system working as it should is one reason why.