The Terror Consuming Israel From Within
What will leaders do after two hate crimes blamed on Jewish extremists?
by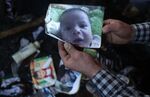 Israelis' worry about the looming nuclear deal with Iran has suddenly taken a back seat to another series of news items that some suggest are no less consequential for the country's survival. For the past several days, Israel has been a society in the grips of soul-searching after two horrific hate crimes, each of which involved the death of a child.