The Biden Boomlet Debunked
Besides his family, the press and political operatives, who wants him to run?
by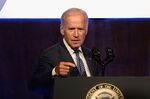 There's only one thing wrong with the Joe Biden presidential boomlet, which received a fair amount of news media attention over the weekend (some bought into it more than others). Democrats have repeatedly shown a thorough lack of interest in moving Joe Biden into the White House.