Nancy Lieberman's Uphill Climb to the NBA Bench
Will the basketball legend get a chance as a head coach?
by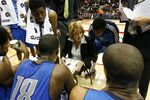 Pioneers don't usually get to enjoy the benefits of the new ground they broke. Most often, they strike down barriers in service to future generations. So it's gratifying to see Nancy Lieberman, a revolutionary of women in sports, herself walk down the path she's paved for others.