Ex-Im Bank Is a Tiny But Tempting Target
Critics of this export subsidizer are overreacting. They're also right.
by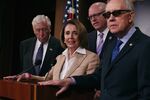 In Washington, the high-stakes battles of yesteryear have given way to a grim stalemate, in which Obama doesn't try to do much of anything, and Republicans half-heartedly try to stop him from doing not very much, and everyone tells reporters how important it all is.