Beijing and Tokyo Will Get Torched by the Olympics
Hosting the event won't help the economy in China or Japan.
by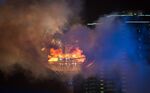 Tokyo and Beijing are still celebrating the news that they'll host the 2020 Summer and 2022 Winter Olympics, respectively. But it's time to congratulate the real winners: all the cities that have decided to steer clear of competing for the honor.