Can Singapore Save Democracy?
Corrupted elsewhere, it may work best in small states.
by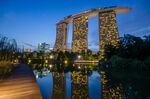 Next Sunday, Singapore celebrates the 50th anniversary of its independence. There's much to celebrate -- for some at least. The city-state is indeed "exceptional" (as its leaders like to say) as a global hub for finance, trade, travel, and shipping. Its mix of languages, which include English and Mandarin, has made it the perfect gateway to an economically resurgent Asia.