Cleaning Up Graveyards of Steel
Ship recyclers are more eco-friendly than ever. Thank China.
by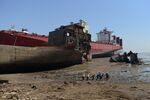 For decades, the dangerous and polluting ship-breaking yards that stretch for six miles along the beaches of Alang, India, successfully resisted the efforts of activists and foreign governments to shut them down. But in recent months, they may have finally met their match in a different adversary. Desperate steel mills in China, whose domestic markets have diminished in a slowing economy, are dumping their surplus on India.