Spending More on Health Care Is Actually Sort of Good
That is, if you think health care is a good thing to have.
by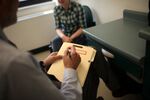 In recent years, health care cost growth has slowed down. This is great news for the federal budget, and for those of us who, you know, get health care occasionally. Unfortunately, researchers from the Centers for Medicare and Medicaid Services project that the good news may be over. With the population aging, the economy recovering, and Obamacare expanding coverage, they expect health care cost growth to average almost 6 percent over the next decade.