Beijing 2022, the Surprisingly Green Olympics
Winter Games might be good for China's environment. Seriously.
by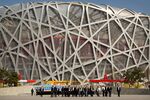 After years of running bloated Olympic Games criticized for their environmental records, the International Olympic Committee decided to make sustainability a goal, using sport as a way to promote better development. Under IOC President Thomas Bach in 2014, it inaugurated Olympic Agenda 2020, a set of 40 reform principles designed to make the Olympics a "plug-and-play" event: Host cities would be chosen in part because the games already fit into their environments and would do minimal damage.