Why Russia Vetoed the MH17 Tribunal
The Kremlin's motivation goes beyond protecting the people who downed the airliner.
by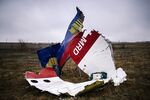 It might seem that Russia vetoed a United Nations Security Council resolution to set up an international tribunal to try the people responsible for the crash of Malaysia Airlines Flight 17 last year because Russia was responsible -- either directly or through its separatist proxies in eastern Ukraine. Yet this guilt, by now pretty well-established, is not the real reason for the veto.