Top French Official Contradicts Kerry on Iran Deal
Two U.S. lawmakers are told that killing this deal could lead to a better one.
by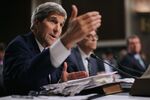 Secretary of State John Kerry has been painting an apocalyptic picture of what would happen if Congress killed the Iran nuclear deal. Among other things, he has warned that "our friends in this effort will desert us." But the top national security official from one of those nations involved in the negotiations, France, has a totally different view: He told two senior U.S. lawmakers that he thinks a Congressional no vote might actually be helpful.