Tom Brady's Reputation, and Under Armour's
How does a sponsor feel when its player sues the NFL?
by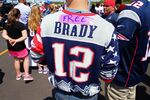 Both the NFL and Tom Brady seem determined to stretch out Deflategate for as long as possible, doing nobody involved in this mess any favors. But while Brady himself might believe he's doing what's best for his long-term reputation and legacy, he might be hurting his long-term sponsorship opportunities.