Israel Rejects Obama's Olive Branch, for Now
Israel still hopes to kill the Iran deal, not make the best of it.
by and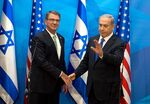 The Obama administration wants its relationship with Israel to move past the Iran deal, to start talks on how to counter Iran's influence in the region. But the Israeli government won't have that discussion while there is still a slim chance Congress can kill the deal.