Dog-Sitting in the On-Demand Age
DogVacay shows potential and limits of the Uber-Airbnb approach.
by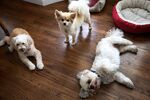 The headquarters of Uber is in a concrete, bunker-like former bank building on Market Street, downtown San Francisco's unwelcoming main drag. To get in you have to pass through a security gauntlet on the ground floor. Once you get off the elevator in the company's offices there are some electronic documents to sign. After that things start looking more like your basic Internet company, with people sitting on sofas working on their laptops, and lots of free snacks. But the place still feels like it's on a war footing. Which it should be: It's a controversial company, doing battle with entrenched interests and government regulators.