Critics Hate Benghazi Film They Haven't Seen
The angst over Michael Bay's movie -- its trailer, to be exact -- is overblown.
by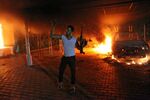 Michael Bay's "13 Hours: The Secret Soldiers of Benghazi" might not turn out to be the biggest film of 2016, but it could prove the most controversial. The studio released a two-and-a-half-minute trailer this week, and already critics are denouncing what little they've seen.