Judge Won't Let Medical Company Sell Itself Short
If you are trying to minimize taxes, try not to create any collateral damage.
by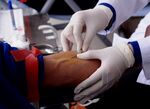 A big problem in economic life is that mostly you want the things you own to be worth as much as possible, but sometimes you don't. You want them to be worth a lot if you're going to sell them, or report on them to the investors for whom you manage them, or generally sit around and gloat about how rich you are. You don't want them to be worth a lot, mainly, if you are going to pay taxes on them, though there are other important cases. 1  It can be tempting just to say that they're worth different amounts in different situations: Tell the buyer of your thing that it's worth $100, but tell the IRS that it's only worth $20. But, you know. Sometimes they check!
Here is a story from Tuesday's delightful opinion in Fox v. CDX Holdings by Delaware Vice Chancellor J. Travis Laster. There once was a company called Caris Life Sciences. Caris was a private company mostly owned by its founder David Halbert (70.4 percent) and by a private equity fund called JH Whitney VI LP (26.7 percent), with employee stock options making up most of the other 2.9 percent. Caris had three businesses: Caris Diagnostics, which was profitable; TargetNow, which wasn't yet; and Carisome, a blood-test cancer-screening business that "was in the developmental stage": It had launched two unsuccessful products, but "a successful Carisome product 'would be the largest product launch in the history of mankind,'" if Halbert did say so himself. (He did, in court.)
TargetNow and Carisome needed money, so Caris hired Citigroup to find it. The plan that Citi and Caris settled on was to sell Caris Diagnostics, the stable profitable business, and reinvest some of the money back into the earlier-stage Carisome and TargetNow. (The investors would keep the rest.) So they went out and shopped Caris Diagnostics and found a few potential buyers, some of whom were also interested in TargetNow. So Citi and Caris went and shopped TargetNow, too, seeking a value for it somewhere in the "couple of hundred million" range based on five-year earnings projections. 2  Caris's chief financial officer, Gerard Martino, "testified that he did not believe any of the projections that Caris gave to the bidders. Halbert said the same thing." O ... kay?
Perhaps no one else did either. Ultimately they sold Caris Diagnostics to Miraca, another medical diagnostics company, and kept Carisome and TargetNow. Miraca paid $725 million in cash for Caris Diagnostics; Halbert and the JH Whitney fund kept most of the money (about $560 million), but reinvested $100 million of it into Carisome and TargetNow. 3 The deal closed in November 2011. Since then, "TargetNow did not reach profitability, and Carisome did not develop a marketable product." Oh well. At least they got the $560 million.
They also saved some taxes. Instead of selling the Caris Diagnostics business directly to Miraca, Caris spun out Carisome and TargetNow to its shareholders, and then those shareholders sold their stock in the remainder of Caris (i.e. Caris Diagnostics) to Miraca. If Caris had sold the diagnostics business for cash, it would have paid tax on the proceeds, and then the shareholders would pay tax again on any money that Caris distributed to them. But by spinning out Carisome/TargetNow first, they avoided the double tax: Caris the company had no gain on the sale of itself, so the shareholders just had to pay taxes on the cash they received for their stock. Here's how that looks:

See? Only one layer of taxes.
But while Caris the company didn't owe taxes on the cash sale, it did owe taxes on the value of what it spun off to its shareholders: 
Under Section 355(e) of the Internal Revenue Code, RemainCo would recognize taxable gain from the Spinoff as if it had sold TargetNow and Carisome to Caris's stockholders for the fair market value of those businesses on the date when the Spinoff occurred. See 26 U.S.C. § 355(e)(1). If the fair market value of those businesses exceeded their tax basis, then RemainCo would owe tax on the difference. 
And Miraca, as the new owner, quite reasonably didn't want to pay taxes on the stuff that was staying with the old shareholders. "But if the value of TargetNow and Carisome was less than Caris's basis in those entities, then the Spinoff would result in zero corporate-level tax."
So ... you know. What was the value of TargetNow and Carisome? They weren't publicly traded; they were early-stage speculative businesses that ultimately came to not much. It was pretty much up to Caris -- and Miraca, and their respective accountants (PricewaterhouseCoopers and Grant Thornton for Caris, Deloitte for Miraca) -- to decide what they were worth. The number they ultimately came up with was $62 million ($47 million for TargetNow and $15 million for Carisome), conveniently below Caris's tax basis. 4 "We are at zero tax," Caris's accountant said, when he got to that number. Yay!
So everything worked out great for everyone, besides the IRS. Except that they forgot one little thing. Remember those option holders, who represented about 2.9 percent of Caris's stock? The deal cashed them out, and it had to cash them out at a price, and that price had to be for the full value of the company. 5  The value of Caris Diagnostics was easy enough to calculate -- it was the merger price -- but then you have to add the value of Carisome and TargetNow. Which, Caris just got through calculating, was $62 million. 6  
The option holders sued, saying that that value was too low. And so there was a trial, and testimony, and it came out that, at least in Vice Chancellor Laster's opinion, that value was totally fake.
One obvious awkward fact is that Caris valued TargetNow at $47 million for tax and options purposes, a few months after shopping it to bidders for a "couple of hundred million." The difference was driven by the fact that most of the projections used for the tax/options valuation "were materially lower than the projections that Caris provided to potential bidders. Even the upside case was materially lower." Martino and Halbert (the CFO and the founder) had an explanation, though: The bidder projections were fake.
They both testified in substance that they sought to defraud bidders for TargetNow by knowingly providing the bidders with projections that Martino and Halbert did not believe. 
That may have been true (after all, the bidders passed on TargetNow), but did not endear them to the judge.
Martino's willingness to provide falsely high numbers to bidders in pursuit of a desired result — the sale of TargetNow — fit with and corroborated evidence that he provided falsely low numbers to PwC and Grant Thornton in pursuit of a different desired result — zero corporate-level tax from the Miraca Transaction
"No no no we were lying before but we're telling the truth now" often does not have the intended effect.
But the bidder projections weren't the only ones that disagreed with the final valuation. Long before the spin-off, Grant Thornton had regularly been valuing Carisome and TargetNow for option grant purposes. 7  Those valuations were considerably higher than the $62 million that Caris settled on with PwC, its tax adviser on the deal. 8  And when Miraca's accountants questioned PwC's $62 million valuation, Caris went and got a second opinion from Grant Thornton:
One might have thought that Grant Thornton would take positions consistent with its prior work. Instead, after meeting with Martino, Grant Thornton's employees viewed their task as "just copying PwC's report and calling it our own . . . ." JX 150. And that is predominantly what they did.
Which is not a great way to get a second opinion. 9  
There were other problems. For one thing, the low valuations on Carisome and TargetNow seemed inconsistent with the shareholders' beliefs. They reinvested $100 million back into those businesses, which isn't proof that they were worth more than $62 million, but is sort of suggestive. 10  "Citi noted internally that Halbert was 'thinking in billions for the Carisome stuff'": again not proof that it was worth more than $15 million at the time, but suggestive. And JH Whitney, the private equity fund that owned 26.7 percent of the company, "gave a presentation to the advisory board of Fund VI in which it valued Fund VI's 26.7% of TargetNow at $41 million, implying a value for the whole business of $153.5 million."
Vice Chancellor Laster calculated that the right value of TargetNow and Carisome was $240 million rather than $62 million, and awarded the option holders $16.3 million in damages. He concluded that Caris didn't intentionally set out to hose its option holders -- who were after all employees -- but did it anyway:
The option holders were collateral damage. The purpose of the valuation exercise was to arrive at a number that would result in zero corporate-level tax from the Spinoff, and hence zero tax liability indirectly for Halbert and Fund VI. The goal was to avoid paying the IRS. But once committed to that end, Martino could not undervalue SpinCo for tax purposes while valuing it fairly for the option holders. ... Halbert then faced a choice between (i) a realistic valuation that would result in Halbert and Fund VI paying tax on 97% of the equity or (ii) a zero-tax valuation that would generate an unrealistically low payout for the options. Halbert chose the latter, which obviously benefitted himself.
One thing that makes this case so surreal is the total casualness with which everyone seems to have treated this multi-hundred-million-dollar transaction. Grant Thornton copying PwC's work is embarrassing, but the real low point was the testimony of Jonathan Knowles, a vice chairman of Caris's board of directors, who was paid $540,000 a year, and who did not recall any discussions about the fair treatment of the option holders:
What Knowles instead believed was that the Board simply advised Halbert who, as Caris's controlling stockholder, CEO, and Chairman, had the final say on all decisions. Knowles testified, "[I]t's clear that what – that David will – that the majority shareholder, the president and CEO, will and does take into account feedback and input. However, ultimately he will make the decision."
Look, there is something to that: If the board disagrees with the majority shareholder, the majority shareholder can fire the board and get new directors. And obviously there are plenty of private companies where the board exists mainly to advise the founder, not to control him. But you're not supposed to say that! The board, even in a private company, has fiduciary duties to all shareholders. 11  That's why there's a board. If the chief executive officer and majority shareholder wants to hose the minority shareholders, you're supposed to say no. Of course then he can fire you, but at least you don't get sued.
But the most surreal thing is that this whole 84-page opinion and four-year litigation are about the options. The options were, as Vice Chancellor Laster said, just collateral damage. They were just 2.9 percent of the company. Their $16.3 million of damages is not, in the scheme of things, all that much money. The goal of all this shoddiness was never to stiff the option holders. It was to stiff the IRS. 
I don't want to give you ... whatever sort of advice this is ... but obviously one main goal of financial engineering is to take value from people who aren't in the room, and the IRS is so rarely in the room. If you've got a smallish private company and you want to give it a low value for tax purposes, I mean, sure, who am I to stop you? But it's important to make sure that you're not accidentally taking value from people who are in the room, or at least who are right outside the room waiting to see how much they'll get paid on their stock options. Because those people are considerably more likely to notice.
To contact the author on this story:
Matt Levine at mlevine51@bloomberg.net
To contact the editor on this story:
Stacey Shick at sshick@bloomberg.net
Before it's here, it's on the Bloomberg Terminal.
LEARN MORE