Why Economists Have Trouble With Bubbles
The dominant theory says people and markets can't be wrong.
by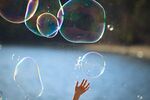 One of the strongest orthodoxies in modern economics is being challenged, and there could be big implications for the state of the profession. The new, rebellious ideas might also help us understand why financial bubbles happen.