The Midsize Newspaper Is Toast
At some point, there won't be anything left to cut.
by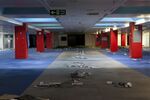 Everybody who's been paying attention knows that it's been a tough decade for American newspapers. But every once in a while it's worth checking in on just how bad it's been. The release of the American Society of News Editors' annual newsroom census this morning provides an opportunity to do just that:

There were 32,900 full-time employees in American daily newspaper newsrooms at the beginning of this year, down from 36,700 just a year before. The industry's modern employment peak was 56,900, in 1990, although it stayed pretty close to that level until 2007. Then the newspaper business fell apart, with a financial crisis and recession accelerating the digital disruption of the advertising-based business model that had sustained the industry for decades even as readership declined.

QuickTake The Fading Newspaper
This turn of events has been hardest on papers in the middle. During 2014, the ASNE reported, employment actually rose at newspapers with circulations of less than 5,000 and between 250,000 and 500,000. But it fell almost 22 percent at newspapers in the 100,000-250,000 range.
As newspaper veteran Ken Doctor writes at Nieman Lab, the national dailies and the big regional papers lucky enough to be owned by a billionaire are still investing in the future. So are the smallest community newspapers. But the papers in the middle are for the most part just managing decline by continually cutting back. That can't work forever. Here's Warren Buffett, from his February 2007 letter to Berkshire Hathaway shareholders, which discussed newspaper economics at some length:
There's no rule that says a newspaper's revenues can't fall below its expenses and that losses can't mushroom. Fixed costs are high in the newspaper business, and that's bad news when unit volume heads south. 
I'm guessing that the next thing we'll see is the collapse of midsize newspaper after midsize newspaper as the cost-cutting reaches its logical conclusion. There have been lots of newspaper closures before, but they've mostly been of also-rans whose departures left the market in the hands of the dominant local paper. Now I think the end is near for the dominant papers too.
As somebody with a past in the newspaper business, most of which I spent at a newspaper in that 100,000-250,000 range that is now a shrunken husk of its former self, I can't help but be sad about this. But should anybody else care? Isn't this just creative destruction at work, with the only ones being hurt a relative handful of journalists?
At the national and global level, it's easy to see the creative part at work. News consumers now have access to a bounty of journalism every minute of every day, and on certain topics -- economics, for one -- much of it is of a depth and quality rarely seen two decades ago. But so far no one has come up with any kind of sustainable, viable replacement for the local and regional news-gathering that the midsize newspapers do (or used to do). As the jobs disappear, important information is disappearing too.
(Corrects name of American Society of News Editors in first paragraph of article published July 28.)
To contact the author on this story:
Justin Fox at justinfox@bloomberg.net
To contact the editor on this story:
James Greiff at jgreiff@bloomberg.net
Before it's here, it's on the Bloomberg Terminal.
LEARN MORE