NFL's Brady Ruling Doesn't Mean Deflategate Is Over
The league is venue-shopping for the union's appeal.
by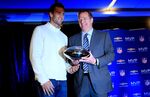 To the surprise of absolutely no one, the NFL has upheld the four-game suspension given to Tom Brady by the NFL. But the great suckhole of time and energy that is Deflategate still hasn't run its course.