Is Clippers' Josh Smith 'Spoiled' for Wanting to Win?
Why saying he will "only" make $6.9 million isn't absurd.
by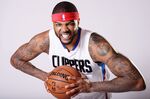 Everyone's mad at new Los Angeles Clippers forward Josh Smith for appearing to lament that he's ­­only due to make $6.9 million next season. "It is going to be a little harder on me this year," Smith said in a widely circulated quote that has inspired snarky responses and even a satirical GoFundMe page. An athlete complaining about his millions at a time when the median household income is just over $53,000 and 15.4 percent of the country lives below the poverty line sure sounds like the tone-deaf ramblings of an entitled, spoiled brat. There's just one problem: That's not what he actually said.