Where Is Europe's JPMorgan?
A challenger is more likely to come from China.
by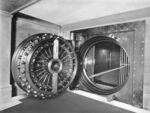 In the coming years, there are likely to be a couple of empty seats at the global investment-banking table. While U.S. financial institutions consolidate their dominance of the world's securities markets and Asia's exploding middle class begins to propel that region's banks onto the world stage, Europe looks set to be left behind. The next challenger to JPMorgan Chase is much more likely to emerge from China than from either the U.K. or the euro zone.