Boston Doesn't Need Your Olympic Attention
The city is perfectly fine with its provincial status.
by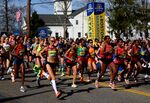 Boston's world-class universities and hospitals make it a globally significant metropolis. But its residents have rejected the cosmopolitan dream of hosting the 2024 Summer Olympics, causing the U.S. Olympic Committee to cut ties with the city Monday. The public intransigence wasn't just an expression of fiscal caution. It was something deeper, a self-conscious embrace of provincialism as a value. And that raises a fascinating question: In a globalizing world, is there a place to be proudly provincial?