The Good News in China's Stock Plunge
Beijing should now see the wisdom of letting markets work.
by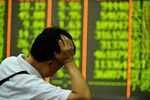 Panic is in the air as China suffers its biggest one-day stock plunge since 2007. It shouldn't be. The 8.5 percent slide in the Shanghai Composite Index is actually a development that could leave China better off eight years from now.