Pedro Martinez Strikes Out a Racial Myth
A Hall of Fame inductee puts Colin Cowherd and Donald Trump in their place.
by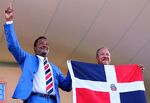 Colin Cowherd's exit from ESPN was less than graceful, calling into question his future at Fox Sports. The longtime radio host hastened his departure from the Worldwide Leader by continuing to alienate minority fans and players, and drawing the ire of the Major League Baseball Players Association.